Hi I'm Mandy Addington and have had the pleasure of being owned by Irish Wolfhounds for over 22 years. I currently live with four beautiful Wolfhounds, called Dermot, Declan, Duffy and Dáire who are all part of our family.
A while ago I was introduced to Facebook and at the same time embarked on a new hobby of dog showing. Just over four years ago, I started my own Facebook Group called The Irish Wolfhound Community. Along with other friends who help administer the site, we have now got a wonderful 6,000 members from all over the world, who love to share their pictures, stories and try to help new prospective owners by pointing them in the right direction when it comes to choosing a pup. The Irish Wolfhound Community Group has also help raise over thousands which has gone directly to the IW Health/Rescue Groups.
This new website has been created to help raise even more funds for our beloved breed. Raffles and items of merchandise will be displayed here and hopefully will continue to raise funds to help new health projects or to fund a hound that is in need of rescue.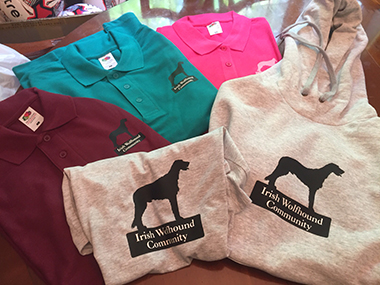 Mens and Womens Hoodies
£18
---
Mens and Womens T Shirts
£11
---